Lying drunken in my thatch-roofed house without locking the door, I see Mount Lao when opening my eyes/My guests are still here in the house while the birds in the air are flying homeward over the edge of the woods.
--- Auspicious Mansion Poem
In a golden age for inheritance and promotion, Sunkin Auspicious Mansion was launched in a grand manner on June 12. Then it sold out immediately and the sales amounted to RMB200 million! With this extraordinary achievement, it became the most popular housing project in Qingdao, receiving more and more attention on the market – adding fire to the summer that was already burning hot.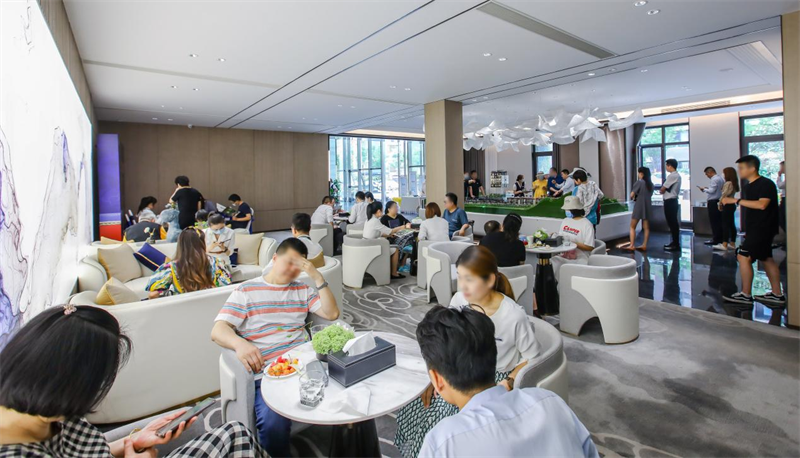 Sunkin Auspicious Mansion, Talk of the Town
Since the beginning, Sunkin Auspicious Mansion has been drawing attention from high-end customers in Qingdao. As a housing project with large units offering a mountain view rare in Qingdao, it has achieved a perfect unification between city and wooded mountain. It is a continuation of the ideal of mountain residence, to which the aesthetics of mountain residence are giving way. So, inevitably, it has sold well thanks to the double factor of "attention and reputation", representing the influence of its quality.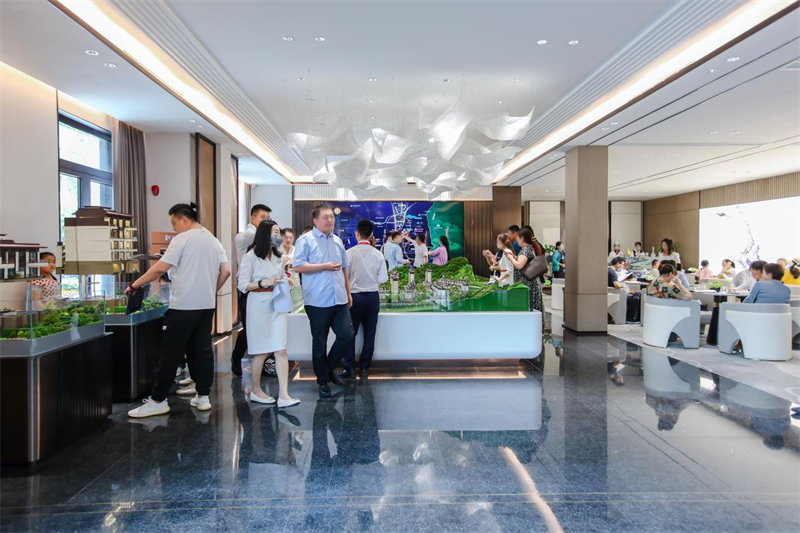 Sunkin Auspicious Mansion restores the residential ideal in the Eastern architectural aesthetics. With its conscientious material selection standards and meticulous architectural layout, it enables people to experience the extraordinary charm of a natural wooded mountain. Well received at the launch, it has shown that the citizens of Qingdao highly approve of living in a mountainous environment.
Mansion Residence in City Offering Best Living Experience
Sunkin Auspicious Mansion is located at the Danshan section, an urban luxury housing block emerging after southern Qingdao City and the traditional Mount Lao luxury housing section. It is a combination between urban bustles and rare landscaping resources; it has convenient access to 3D transportation, major shopping malls, quality medical facilities, higher education institutions, and so forth – the prospect of a quality life is so obvious.
Sunkin Auspicious Mansion features Prestige townhouses each with a building area ranging from 205 to 220 square meters; Mountain courtyards each with a building area ranging from 165 to 190 square meters; Wooded Stream apartments each with a building area ranging from 125 to 155 square meters. With excellent aesthetics, it demonstrates to people a grand vision of culture and architecture in a prosperous age, proving that their mansion-life dream has come true right here!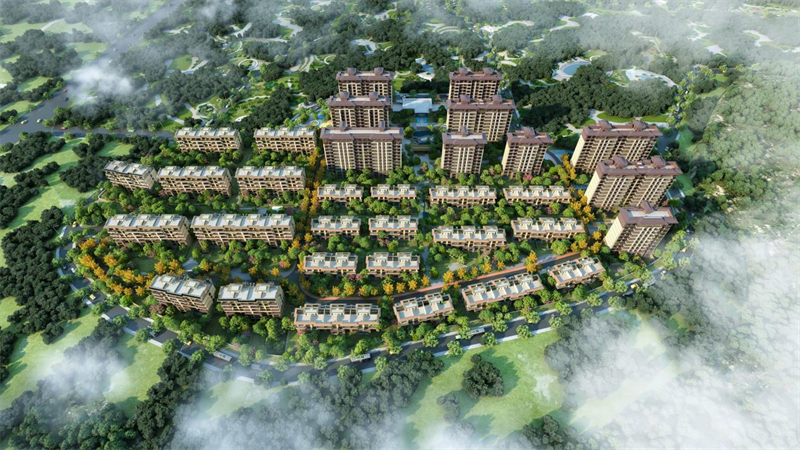 Effect drawing of the project
With Picturesque Landscaping and Lighting, where You Can Live a Pastoral Life
"Walk till where the stream ends, sit and wait to see the rise of the clouds," as goes the poem, the charm arising from the fusion in landscape leads to the conceptual image of "A half-mu square pond opens up like a mirror, reflecting the sky lights and wandering clouds."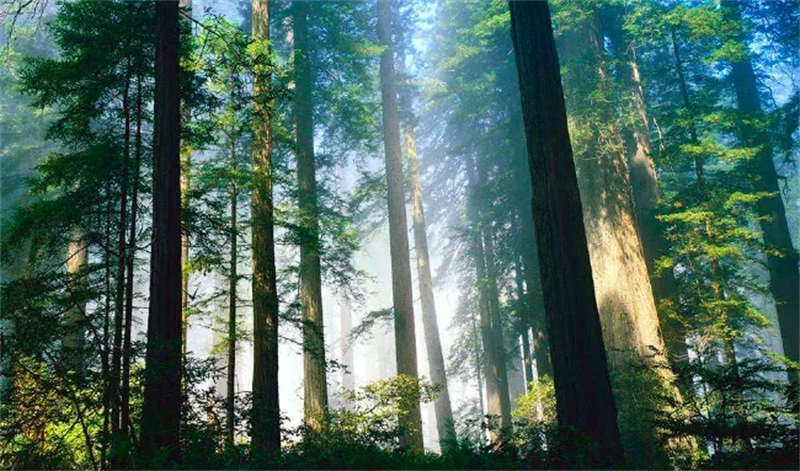 Effect drawing
Sunkin Auspicious Mansion is located at Danshanxin on the western slope of Mount Lao. Having Mount Taihe Yuntougang Scenic Area behind it and neighboring Shimeian Scenic Area in the southwest, it is surrounded by the mountain on three sides; facing the north, it offers a view of the Danshan Reservoir and Yuantou River as a habitat of egrets and bordering the Yuntougang Reservoir. It is pure greenery everywhere. With each breath, you are filled with oxygen in your system; you can freely exhale and inhale the "essence of the universe" and feels every cell of yours pumping with freshness and vitality.
Reference to Wangchuan Landscape to Create Ultimate Landscape
From ancient times to the present, the architectural aesthetics in Chinese-style landscaping have been imbedded in the heart and soul of the Chinese people in regard to the living environment. The essential elegance of the Chinese style is the lifelong pursuit of many people, ranging from Penglai the fairy island in the sea to Wangchuan, a place with a fabulous landscape secretly carrying the ultimate residence dream of the Chinese people.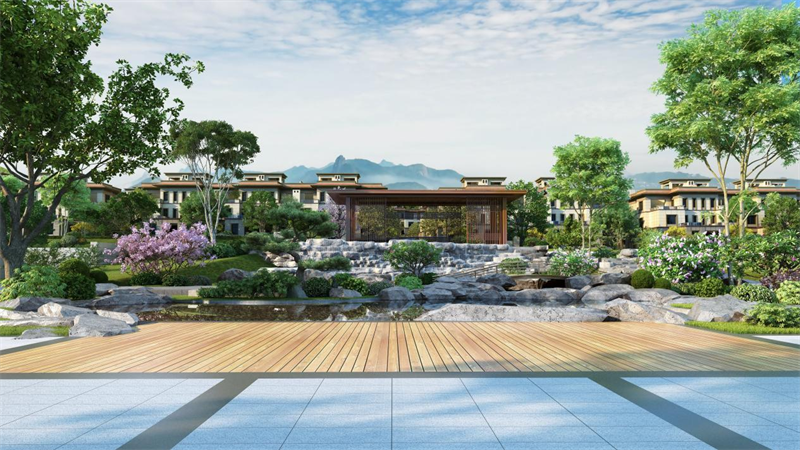 Effect drawing of project's main view axis
In terms of the spatial layout, Sunkin Auspicious Mansion extracts the essence of "Wangchuan Country Landscape" to create a landscape featuring " 20 Sights of Auspicious Mansion"; based on the eight Zen aesthetic elements of "qi, mi, wei, jian, su, jia, bing, and po," it follows the Eastern rules of "one axis, one vein, three gardens, six lanes, and seven parks," interpreting the natural beauty of harmony between man and his residence.
Prelude to Eastern Life, Courtyard for Leisurely Life
Sunkin Auspicious Mansion allows for dialogue between Chinese style and the world, making aesthetics part of life. As a mountain mansion project, it meets the residential needs and requirements of various groups of people. It sheds a new light on mountain mansion residence and explores the beauty of living in privacy.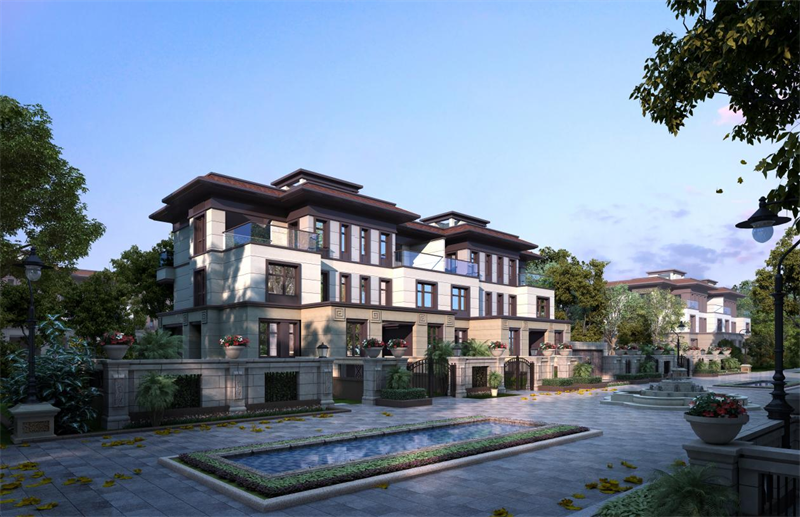 Sunkin Auspicious Mansion adapts to natural forms. With a low floor-area ratio, it provides a high level of comfort for life in mountain residence; it represents human longing for prestigious life and provides a private, mysterious living space for the urban elites.
Residence of Your Choice, Enjoying Leisurely Life
The launch was a huge success. Your dream mansion life among the wooded mountain in Qingdao is coming to you from the depth of urban bustle and hustle. Stories about beautiful life in Sunkin Auspicious Mansion will go on.
The project makes the Chinese charm take root in the texture of contemporary life and relives classical elegance; creating a lifestyle of essential beauty, it represents the longing for Eastern residence. In this way, it pays a tribute to the city. Embodying passion in life, it builds a local spiritual realm with Chinese-style courtyards so that the ideal of poetic residence can bloom like flowers.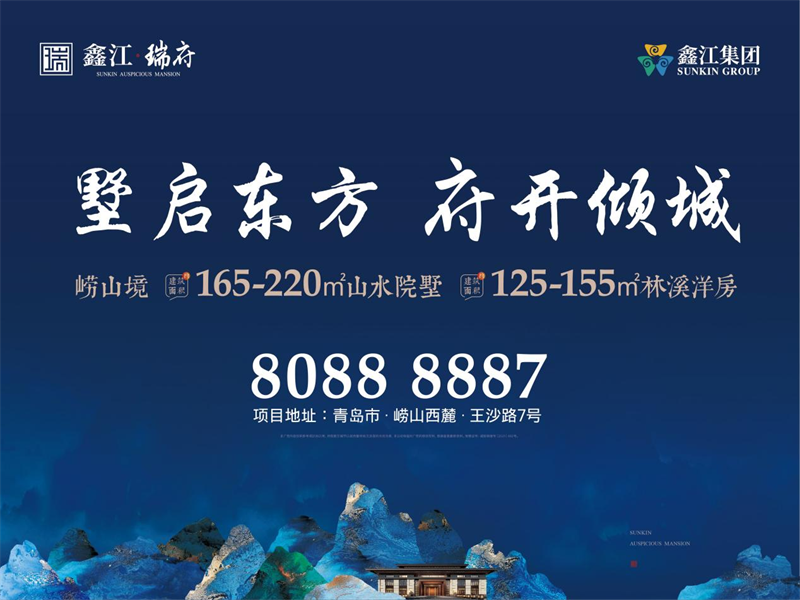 Prestige townhouses each with a building area ranging from 206 to 220 square meters
Mountain courtyards each with a building area ranging from 165 to 190 square meters
Wooded Stream apartments each with a building area ranging from 125 to 155 square meters
High-quality mansion residence, a tribute to prestigious life.
Tel.: 0532-8088 8887